XVIII National Forum on Environmental Management and Sustainability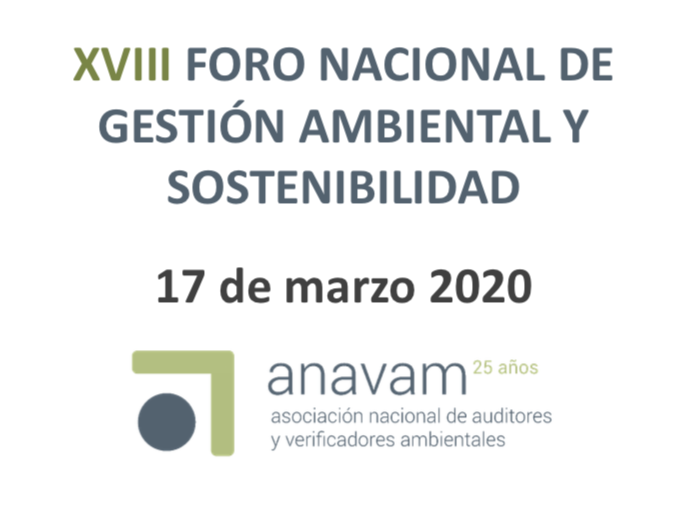 What is ANAVAM?
FO is a non-profit association established in December 1994. Integrated by leading entities in environmental management in Spain, represents the sector in its different aspects of auditing, Consulting, Certification, Verification, Inspection, Advice, Certification, engineering or laboratories.
The mission of FO is to actively contribute to the growth and development of the environmental management sector on the basis of quality criteria, Seriousness, rigor and professionalism.
FO assumes as its own and in turn requires the actions of the members who form it, values like diligence, Integrity, Independence, Legality, Honesty, Confidentiality.
In the light, both of the principles that inspire it and of the objectives it pursues and within the framework of its mission, ANAVAM since its inception has participated in talks, Conferences, Days, Congresses, etc., in order to disseminate their views on environmental management issues in general,, and in particular anything that contributes to publicize both environmental management systems and related tools, as well as the new instruments that are emerging in order to raise awareness of the advantages in all the orders involved in their implementation.
FO organizes the XVIII National Forum for Environmental Management and Sustainability based on both the excellent impact achieved in previous editions and the interest aroused by the topics proposed for this occasion.
This edition aims to address the development and implementation of ISO 17029:2019 General Principles and Requirements for Validation and Verification Agencies that opens up a wide range of possibilities for the sector and one of the key issues for the Green Transition, Green Deal and the Sustainable Development Goals (ods): financing and major economic incentives for businesses. All this under the framework of the 25 anniversary of the creation of FO.

Download information